Temple Israel welcomes families and individuals of all lifestyles and life choices as well as those with special needs.  Join us and find out how good it feels to be part of an inclusive Jewish tradition. Temple Israel..the community that welcomes the stranger and lets no one stand alone.
The largest Chocolate Gelt Mosaic was constructed at Temple Israel. IT WAS AMAZING!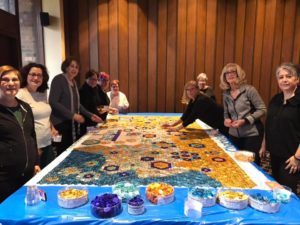 Sisterhood has done it again. The ladies got together to create the largest and most delicious mosaic made with chocolate gelt.
Read all about it in the Staten Island Advance 
www.silive.com/news/2018/12/temple-assembles-mosaic-with-more-than-7500-chocolate-coins.html

Thanks to the generosity of Dr.Ron Avis Foundation, a number of young families can join our great community at a reduced rate and enjoy many free activities & tuition free Hebrew School.
RELIGIOUS & HEBREW SCHOOL

Sun, 9:30am-noon
Wed 4:30pm-6:00pm
Give your child the best start ever with our quality Hebrew & Religious school education.    Age appropriate curriculum from ages 3 to teen confirmation.  More info
Enjoy your summer, see you back Sun, Sept 8, 2019.
Celebrate Shabbat With Us

Kabbalat Shabbat,  Family Shabbat ,  I-Shabbat, No Shush Shabbat  &   Torah Study. Find your perfect Shabbat!    
June 7 ,  June 21  I*Shabbat , Kabbalat Shabbat -Brotherhood & Sisterhood Installation
    All  Shabbat Services are opened to the Community."Click here for schedule.
UPCOMING EVENTS!

MAT & CHAIR YOGA Yogav on Sundays and now Wednesday.. more info           Yoga cancelled Jun 16 for Father's Day
        Thu, Jun 20 Eat & Raise Some Dough for T.I. at Jimmy Max – flyer required
Fri, 6/21 at 6:30pm Happy Hour & 1/2  flyer            Mon, 6/24 Grandparenting in the 21st Century flyer
Sun, July 14 Brotherhood's Annual BarBQ more info
FUTURE  EVENTS, FLYERS & INFORMATION CLICK HERE

E-Shalom Bulletin
Growing & Nurturing Our Jewish Experience

REGULARLY SCHEDULED EVENTS
MAT & CHAIR YOGA AT TEMPLE ISRAEL- suitable for all levels, Sunday at 6pm and will also meet on a new night, Wednesday at 8pm more info
NO SHUSH SHABBAT, 1st Friday of the month at 5:45pm(new time): a 1/2 hour Shabbat Service for special needs children and their families. RSVP 718.727.2231. No Shush services resume in October more info
I*SHABBAT, 3rd Friday of the month at 6pm: a 35 minute lively, interactive Shabbat Service for young children and their families. I*Shabbat meets May 17  more info
Kabbalat Shabbat Services every 2nd, 3rd and 4th Friday at 8pm followed by Oneg.        
Torah Study every Saturday at 10am followed by Shabbat Service at 11am.
__________________________________________________

TEMPLE ISRAEL, A PLACE WHERE COMMUNITY HAPPENS!
Reaching out to Our Community Temple Israel is actively involved with coordinating the efforts of the congregation's activities, fulfilling the mitzvah of tikkun olam, repairing the world. We have formed strong alliances with various organizations to help achieve our goals. We are the proud originators of the Staten Island Community Days. Check out "Our Affiliates" page under Community..  
---
  

We LOVE families at TEMPLE ISRAEL.
Thanks to the generosity of the Dr. Ronald Avis Foundation for Temple Israel, young families (up to 10) will become members of our congregation at a greatly reduced rate and enjoy a a year of fun programming for BOTH parents and children at no additional cost..  In addition, there is tuition FREE Youth Religous & Hebrew School for all of our members. Your family is always welcome to come and join our family and be a part of our great community.
Join us for our fun family oriented events.
___________________________________