Welcome to our Home
Temple Israel welcomes families and individuals of all lifestyles and life choices as well as those with special needs.  Join us and find out how good it feels to be part of an inclusive Jewish tradition. Temple Israel..the community that welcomes the stranger and lets no one stand alone.
Fun ways to support our Temple
Order Gift cards & certificates  order form Special Order gift cards & certificates order form
Feb 26 Last day to order Shalach Manot Bags flyer
Mazohgram..perfect for Passover more info
Young Family Connections

Thanks to the generosity of Dr.Ron Avis Foundation, a number of young families can join our great community at a reduced rate and enjoy many free activities & tuition free Hebrew School.
More info.
RELIGIOUS & HEBREW SCHOOL

Sun, 9:30am-noon Religious School
Wed 4:30pm-6:00pm Hebrew School
Give your child the best start ever with our quality Hebrew & Religious school education.    Age appropriate curriculum from ages 3 to teen confirmation.  More info
Welcome back a special message from the Committee on Religious School more info
Celebrate Shabbat With Us

Kabbalat Shabbat,  Family Shabbat ,  Tot Shabbat  & Torah Study. Find your perfect Shabbat!   Family Shabbat  on 3/6  Tot Shabbat on 2/21,
    All  Shabbat Services are opened to the Community."
Click here for complete schedule.
UPCOMING EVENTS!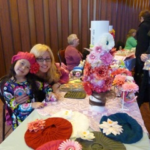 Busy February lots to do, download calendar
Special Children event calendar here
Yoga Classes Sundays at 6pm, Thurs at 7:15pm –   more info   No Yoga class Sun 2/16
Feb 18 at 7pm Adult Learning Book Discussion "Fleishman is in Trouble: by Taffy Brodesfer-Akner
Sun, Feb 23 11am-1:30pm CulturEats Cook & Learn about Chinese Food
Sun, Mar 8 at noon Purim Carnival, come in costume more
Mon, Mar 9 Erev Purim: Reading of the Megillah, Purim  Shpiel "Dr Suess", distribution of Shalach Manot Bags.
E-Shalom Bulletin
Growing & Nurturing Our Jewish Experience