"When I pray, I speak to God. When I study Torah, God speaks to me." –
Professor Louis Finkelstein
TORAH STUDY EVERY SATURDAY at 10am*
The Torah is the "five books of Moses" – Genesis (Bereishit), Exodus (Shemot), Leviticus (Vayikra), Numbers (Bamidbar), and Deuteronomy (Devarim). Each week a portion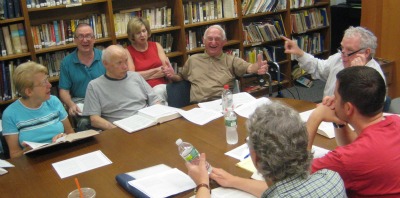 also known as a Parashah is read. The same "Parashah" is read by all the synagogues across the world. It takes one year to complete the reading of the Torah. At Simchat Torah, the last verse in Deuteronomy is read followed by the first verse in Genesis. This symbolizes continuity and building upon knowledge and experience.
The Torah is the foundation for the Jewish faith. Over the years, Jews read it to understand and to gain inspiration. The strong messages have benefitted people from the very beginning to the present.
Led by Rabbi Michael Howald, this one hour class focuses on the Torah portion of the week with extensive lively discussions. Our group ranges from young people in their teens to people in their eighties.

A long time Temple Israel Torah Study student of over 20 years studies the Torah to gain understanding in his life. He mentions that each year, is a different experience for him. Studying the Torah has been a valuable asset in helping him in his life.
Another long time Torah Study student says that she is inspired by the words of the Torah. The words of the Torah gives her a sense of stablity and security.

All are welcome to join us for Torah Study, please call 718.727.2231 to reserve your seat.
*time is subject to change, please check our calendar.