Prayer is a language that each of us speaks and hears in a different way. When we pray together, we try to find meaning within the chorus of diverse voices. With his engaging sermons and stimulating teachings, our Rabbi shows us how the lessons from the past are relevant to our lives today.
Through a wide range of truly meaningful spiritual experiences, we offer something for everyone,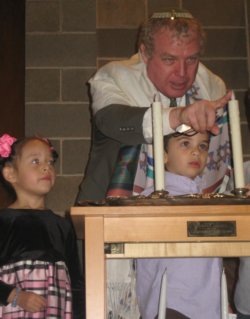 including Weekly Friday Night Kabbalat Shabbat Service, Saturday morning Torah Study followed by Saturday Morning Shabbat Services, I*Shabbat (Interactive Shabbat) for our younger crowd accompanied by their guardian and a monthly Family Shabbat Service featuring songs participation from our students and storytelling from Rabbi Howald. We now offer No Shush Shabbat, a special service for special needs children and their families.
Our services are fully egalitarian (men and women participate equally). We are a progressive and modern temple for today's times. Our Shabbat services are in English and Hebrew, we make it easy to follow along. Currently we use the new Mishkan T'filah prayer book. People who attend vary from those with Orthodox backgrounds to Jewish by choice to the non-Jewish partner of an interfaith couple.
All of our services are open to our community free of charge – membership is not a requirement.