Welcome to the newly organized
Rabbi Kramer Memorial Library at Temple Israel
315 Forest Avenue, Staten Island, NY
The largest library of Judaic books on Staten Island, New York
"Make your books your companions;
Let your cases and shelves
be your pleasure grounds and orchards."
Dedicated on the occasion of Temple Israel's Jubilee Year Celebration
June 7, 1998
The open Library hours will be
Wednesdays
3:30 p.m. – 6:30 p.m.
and
Sundays
9:30 a.m – 12:30 p.m.
Thank you to JR Rich for the many beautiful books that he donated.
If you have any books you think would be appropriate for The Rabbi Marcus Kramer Memorial Library, please bring them for us to see.
Steve Scher
Chair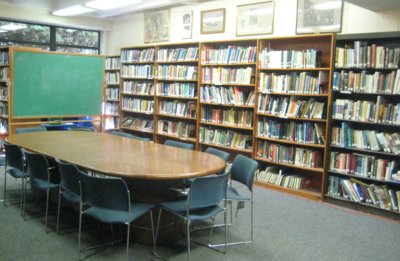 Looking for a good Judaic book to read?  Need a reference book with reliable information?  A fun children's story to read to your child or grandchild?  A tape or video to share with the family?
Come to Temple Israel.  Temple Israel is home to the largest Judaica Library on Staten Island with over 3,500 books including:
Children's stories
Comparative religion
Jewish ethics
Haggadahs
Holocaust
Israeli Authors
Teachers' resources
Torah studies.