A Message from the Co-Presidents Jerry Gross & Alan Siegel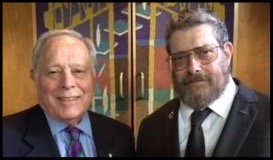 From a President's view sometimes, it is hard to discern where one group's work starts and another ends – kind of like one of those famous Escher designs….but that is not a bad thing.
We are blessed at Temple Israel with dedicated people who carry out tasks behind the scenes.
You have all seen the Bulletin articles by the Ritual Committee after the High Holy Days that thank over a hundred congregants for participating in the services, but did you ever think about the time and effort it takes to get the cues and parts to the participants? And beyond that, the work of weaving together the efforts of those who mail out the tickets, put the Memory Book together, organize the Tashlich bread & cake and the Break-the-Fast nosh, choir rehearsals, and the Sukkot dinner, as well as coordinate with the custodian the different setups for each special service from Selichot to Simchat Torah — and there are FOURTEEN of them (we counted!). And that doesn't include putting up and decorating the Sukkah, polishing the silver, cleaning the Torah covers and many other facets of preparation for the holidays.
And while the upcoming flurry of activity may revolve around the Holidays, please do not forget our other Temple committees – Caring Community, Social Action, Membership, Adult Learning, Liheyot, etc., etc., etc., who work year-round.
We are grateful to those who are already active, and to Brotherhood & Sisterhood who play key parts in much of the Holiday preparation and ritual, as well as every day in the congregation.
It takes a village to run Temple. And we have a spot for your talents and experience. Just ask!
Sincerely,
Jerry Gross and Alan Siegel
Co-Presidents
If you have any questions about our temple or would like to contact the Co-President directly, please feel free to email us at tmplisrael@aol.com and mark the email attention Co-Presidents: . You may also leave a message for us at 718.727.2231.