A Message from the Co-Presidents Jerry Gross & Alan Siegel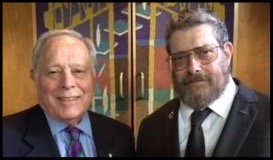 Dear Fellow Congregants,
As we begin writing this message, we look back on the past 3 months with a sense of disappointment tempered by a sense of gratitude to the members of the Temple Israel family.  We were approaching the Spring season with high hopes for numerous Temple-wide activities including Shabbat Shalom dinners, our Annual Community Seder, Brotherhood and Sisterhood meetings and a variety of fundraising activities that would have brought us together in our Sanctuary and our Social Hall.  And then, with little or no advance warning, our plans were forced into a new direction with our focus being redirected to maintaining our health and protecting our families and fellow congregants.
And then our Congregation came together in an on-line platform to continue our Erev Shabbat services, Torah Study, Shabbat Morning services and learning opportunities for our Hebrew School and Religious School students.  We were also able to participate in Yoga classes sponsored by the Avis Foundation for Temple Israel and, on a weekly basis, Coffee and Conversation Chats and Happy Hour, Scavenger Hunt and Bingo with Sisterhood.  All of these activities served the purpose of maintaining the sense of Community at Temple Israel.
As we look forward to the Summer, we hope to celebrate with you at our Virtual Gala honoring Rabbi Michael Howald as we commemorate his 10 th  year with us. We also hope to see you at our weekly services and, possibly, in person at some outdoor events.
We would again like to offer or congratulations to Financial Secretary Jennifer Straniere on being honored by the SI JCC as a L'Dor V'Dor award winner and also to both Terry Baver and Bryn Biren upon being honored by the UJA for their efforts as functionaries of the Avis Foundation.
We are hopeful that your appreciation of Temple Israel's commitment to each and every one of our congregants will be reflected as you renew your annual commitment to our Temple.  We are grateful for the support you have offered at our annual Congregational Meeting when the slate of Officers and Trustees was approved without objection. We will all continue working diligently on your behalf to maintain Temple Israel as the rightful home of Reform Judaism on Staten Island.
We wish you a healthy and safe Summer.
 Jerry & Alan
 Jerrold Gross and Alan Siegel
Co-Presidents
P.S. If you know of a fellow Temple Israel member who is not receiving our e-mail communications, please ask them to call the Temple office with their current e-mail address.
\
If you have any questions about our temple or would like to contact the Co-President directly, please feel free to email us at tmplisrael@aol.com and mark the email attention Co-Presidents: . You may also leave a message for us at 718.727.2231.