A Message from the Co-Presidents Jerry Gross & Alan Siegel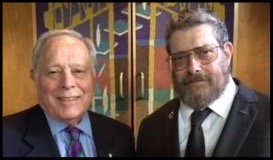 The past month provided us with a number of very uplifting experiences. First, we would like to extend our thanks to those of our Congregants who responded to our request for donations to the Ark Doors Repair Project. Your generosity and timely participation allowed us to effect the upgrading and enhancement of the doors of the Ark that houses our Holy Scrolls. Again, thank you for your support that benefits all of our Congregation. AND, on Tuesday, February 5th, we will be joining other congregations who are also caretakers for Torahs that were rescued from the Holocaust. We hope that you will be able to join us at this very special event. Please refer to the information about the "Gathering of Holocaust Torah Scrolls" which appears later in this E-Bulletin.
The Tu B'Shevat Oneg prepared by Sisterhood provided a tremendous array of holiday-related specialties to tantalize the taste buds of all in attendance. A special thank you goes to all Sisterhood members who spent a great deal of time and attention in the preparation of the dishes.
On Friday, January 18th, our Shabbat Shira/Shabbat Tzedek Service filled the Sanctuary with the wonderful sounds of our Adult Choir and our Children's Choir. Thanks go to our Student Cantor, Jennifer Benrey, whose preparation and participation in this service provided us with an evening of beautiful music. The music of the evening was supported by members of our Rock of Israel band, Jaimie Blackman and Jim Rohan. In addition, the spirituality of the evening was enhanced by a return engagement of Organist Alex Violette. We thank all of those who contributed to the enjoyment of those in attendance that evening.
Looking ahead to Purim, a reminder that the Purim Spiel Players under the direction of Brooke Lopez will continue their rehearsals on most Sundays leading up to their Purim performance. Please check the calendar for rehearsal dates and times. Please note that the dates and times of the Spiel and Purim Carnival will be announced.
Also, please be reminded that Sisterhood will again be assisting us all with the Mitzvah of Misholach Manot by creating and distributing Shalach Manot gifts to members of our Congregation. Please see the flyer for further information about how you can participate and become a sponsor.
Please mark your calendar: On Sunday, February 10th, following our scheduled Sisterhood and Brotherhood meetings, we will be holding our annual Congregational Meeting at which time the Nominating Committee that will develop the slate of officers for the 2019-2020 will be selected. All members in good standing are welcome to attend and participate in this important activity.
Please look forward to the grand re-opening of our Temple Israel Library. Special thanks go to Steve Scher who is working diligently on the reorganization and renewal of this important space.
Remember that Mat and Chair Yoga continue to be offered on Sunday and Thursday Evenings. Please check News and Notes for specific times.
And, yes, the Looney Bin visit was enjoyed by 35 attendees who had an evening of laughter and camaraderie.
Jerry Gross and Alan Siegel
Co-Presidents
Jerry & Alan
P.S. – Don't forget to meet us at the Looney Bin on January 19!
Jerry Gross and Alan Siegel
Co-Presidents
If you have any questions about our temple or would like to contact the Co-President directly, please feel free to email us at tmplisrael@aol.com and mark the email attention Co-Presidents: . You may also leave a message for us at 718.727.2231.