A Message from the Co-Presidents Jerry Gross & Alan Siegel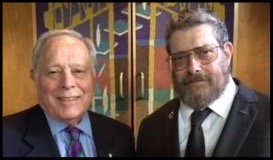 And another year has come and gone. It seems that this has been one of the most active years in recent history. Both Sisterhood and Brotherhood members have been involved in numerous activities that have provided wonderful interactions for our adults and children. We now have a revitalized Fundraising Committee that has successfully completed several "FUN-raising" activities that were well-attended.
As a Congregation, we have participated in several Shabbat Shalom dinners, a Yom Ha'Shoah observance, observed a wonderful Purim Spiel with many of our school children participating, enjoyed our Senior and Children's Choirs at Erev Shabbat services and honored members of our Congregation for their service to Temple Israel as well as the Staten Island Jewish Community. In addition, we have been very fortunate to join together at our High Holiday Services as well as other Holiday Festival Celebrations.
Temple Israel has benefitted from the generosity of long-time member Dr. Ronald Avis who very generously funded the establishment of the 'Avis Foundation' whose focus is the support of Temple Israel. Past Presidents Bryn Biren and Terry Baver have dedicated themselves to identifying and welcoming new members as well as providing varied activities both on- and off-site to enable them to positively interact with other members of our Congregation. We are the grateful beneficiaries of Ron's vision and the efforts of Bryn and Terry.
As you are reading this column, we have also most-appropriately honored our Immediate Past President Bryn Biren at our Annual Gala Event held at the Vanderbilt for her tireless service to our Temple.
We would like to take this opportunity to thank you for the support you have offered us as Co-Presidents of Temple Israel. As we enter the next phase of ensuring the continued presence of our Temple as a home for Reform Judaism on Staten Island, your participation becomes more important in helping to reach that goal. Remain active, attend religious services, enjoy our social events and encourage your unaffiliated friends to visit with us and consider joining our Congregation.
Please accept our best wishes for a pleasant, safe and relaxing Summer.
Jerrold Gross and Alan Siegel
Co-Presidents
If you have any questions about our temple or would like to contact the Co-President directly, please feel free to email us at tmplisrael@aol.com and mark the email attention Co-Presidents: . You may also leave a message for us at 718.727.2231.