A Message from the Co-Presidents Jerry Gross & Alan Siegel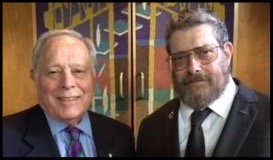 Let us begin by wishing you all a very Happy New Year. We hope that you enjoyed each of our High Holiday Services that you attended. And now that they have concluded, think back to when we were commenting on how early the holidays were this year!
In fact, all the preparations for our Holiday Services began so much earlier than many of you can imagine.
Last Spring, Rabbi Howald began working on each of the actual services as we transitioned to the full use of Mishkan HaNefesh, our new High Holiday prayer book. And with those changes came a challenge to our Ritual Committee to arrange for the many Congregants who would accept the honor of participating in our services. The Temple Calendar was developed and revised to allow for the choir rehearsals that would be led by our new Student Cantor Jennifer Benrey, who was also transitioning into her new position with us. Using a new prayer book meant changes to the liturgy and changes in music as well. A very special thank you goes to our Adult Choir for the many, many hours spent in rehearsal for their wonderful sounds that filled our Sanctuary. Organists and cellists were secured and rehearsed. And, of course, Sisterhood began preparing for the busy season: polishing silver, preparing traditional gifts, planning for the various kiddushim, Break-the-Fast, Share-a-Dish dinners and luncheons that would complement our holiday services. Brotherhood began encouraging its members to assist with the building of our Sukkah in time for our Religious School children to decorate it, all the while securing servers for their annual Simchat Torah ice cream sundae extravaganza. The House Committee was busy making sure that our building was in tip-top shape and, along with the Ritual Committee, making sure that chairs were set up and the appropriate prayer books were in the right places for each and every service. Add to this, all the other Temple officers and dedicated congregants who assisted by making sure we had ushers, flowers, spice bags, challahs, wine, microphones, shofar blowers, etc., etc., etc.
As we write this article, Sukkot is already behind us and Simchat Torah celebrations are about to happen. The Ritual Committee, Brotherhood and Sisterhood and our Clergy are hard at work to make sure all runs smoothly.
How fortunate we all are.
Again, L'Shana Tovah and our best wishes for a happy, healthy and active year at Temple Israel.
Sincerely,
Jerry Gross and Alan Siegel
Co-President
If you have any questions about our temple or would like to contact the Co-President directly, please feel free to email us at tmplisrael@aol.com and mark the email attention Co-Presidents: . You may also leave a message for us at 718.727.2231.