A Message from the Co-Presidents Jerry Gross & Alan Siegel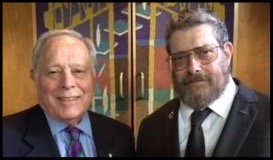 We hope everyone had a happy Thanksgiving.
We are often fascinated (and sometimes turned off) by numbers.
Well, lets try to see if we can get up to eight for celebrating Hanukkah with the help of Temple Israel……
Make sure you get your family greeting onto Brotherhood's annual Hanukkah card.  The deadline is at the beginning of the month;
We move on to  Hanukah Pajamakah at 7 PM on December 6.  Come dressed in Pajamas (we don't care what you  really  sleep in – only PJ's count this night!)  Come at 6:15 if you want Pizza (please RSVP to save your slice!);
That Sunday, December 8, our Judaica Shop will be hosting a Holiday sale in the Social Hall.  Books, Menorahs, Dreidels – everything you need to help you celebrate, plus stuff for the rest of the year as well;
Roll on to December 22 when our students hold their Hanukkah Assembly and feast on latkes afterwards;
Stick around – send in your RSVP for Brotherhood's Hanukah party that afternoon.  Grandchildren are welcome, too!
Most important – gather your family close and light the first cancel that night as Hanukkah begins;
On Friday, December 27, join us for the Hanukkah / New Member Shabbat Dinner;  and finally,
Attend Shabbat Hanukkah services a 8 PM that night and enjoy traditional music and our choirs.
But wait! you say – what about the ninth candle?
Well, we often call the Shamash a "helper candle," and what better way to celebrate that idea than by helping on December 25 th  when our Social Action committee assembles holiday meals for the community.
Wishing everyone a Happy Hanukah and a Happy New Year.
Jerry & Alan
Jerrold Gross and Alan Siegel
Co-Presidents
If you have any questions about our temple or would like to contact the Co-President directly, please feel free to email us at tmplisrael@aol.com and mark the email attention Co-Presidents: . You may also leave a message for us at 718.727.2231.