A Message from the Co-Presidents Jerry Gross & Alan Siegel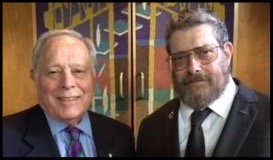 There is always the temptation to dust off an older column and change a few words and offer it to the congregation as a new view, because who reads this anyway?
Well, we know that many of you do, because you compliment or confront us about what we say.  And that is encouraging.  We hope that many of you do read this one carefully, because, ultimately, the future of Temple Israel is literally in your hands.
The saying "March comes in like a lion…" is often quoted, and maybe this month it is time for us to confront some congregational realities in blunt terms and the heck with ending "…like a lamb."
More and more of our former leadership core has migrated South – some just for the winter, but others permanently. And even those who haven't, have stepped back a bit from what they used to do.
We have committees that work very hard – Adult Learning has 3 events lined up for March, and Sisterhood has had many events  during the past two months.  And a special shout out goes to the FUNdraising Committee for the Looney Bin event (off site) and the upcoming Murder Mystery night.
Someone might look at the calendar and say what are you talking about?  Every weekend, except March 1 when the parade closes off the Temple, has an event.  There is a Shabbat Shalom dinner, and on weekdays Rabbi has three Adult Learning events.  Earlier this year, your Shabbat announcements included a few "triple header" weekends.
Exactly.
We need more congregants involved in working on those events, and also attending them, so the committee chairs aren't tasked with doing everything.  And there are everyday committees like House and Caring Community that perform essential work to keep Temple Israel running.  There is a national organization that has a slogan "All we ask is an hour a week…" and, while honestly, it may be a few hours, but not every week, for those who choose to be involved.
So, identify something you want to be part of and talk to one of us. Better yet, create a new agenda that will attract congregational attention and encourage other congregants to participate and share your thoughts with us.
And now it's your turn…
Jerry & Alan
Jerrold Gross and Alan Siegel
Co-Presidents
If you have any questions about our temple or would like to contact the Co-President directly, please feel free to email us at tmplisrael@aol.com and mark the email attention Co-Presidents: . You may also leave a message for us at 718.727.2231.