A Message from the Co-Presidents Jerry Gross & Alan Siegel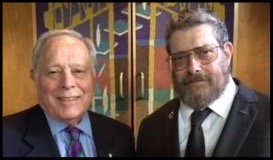 "The days are long, but the years are short".
Anna Quindlen
It may be hard to believe, but we are just 5 months from completing four years in office.  Our Constitution wisely provides that Presidents can only have four consecutive terms.  While we have indeed had some very long days, the years have flown.
At this time of year, it is traditional to make resolutions.  We ask that you make one to be more involved in the communal work of keeping Temple Israel functioning.  Please understand that most of what happens at Temple is the result of volunteer efforts.  We only have three full time staff – Rabbi Howald, John Burman who handles some of the day-to-day work that passes through the office, and Gerard Altieri, our custodian.
Aside from the religious school faculty – that is it for paid staff.  Everything else – from Onegs to the Purim carnival to caring for the library – is accomplished by the volunteer work of your fellow Temple Israel members.  Our Treasurer supervises our money accounts and makes sure our cash flow is handled and recorded correctly, Our Financial Secretary manages the billing and collection of annual commitments.  Sisterhood runs events such as the Jennifer Straniere Community Passover Seder, supplies all paper goods, linens, candles, challahs and wine, runs the Judaica Shop and makes sure our sweet tooths are happy at the Onegs.  Brotherhood has its events as well, and pitches in when additional effort is needed to accomplish something.  The House committee keeps our building in great shape.  The Ritual committee collaborates with Rabbi to make sure our worship experience is what we desire.  Volunteers produce this monthly bulletin, sing in the choir and take care of the memorial walls and Trees of Life. Other groups such as the Adult Learning Committee, the Membership Committee, the Parents Committee, the Avis Foundation and the Fundraising Committee are integral parts of the fabric of the Temple Israel Community which we could not do without.
We are (hopefully) emerging from the most challenging time in Temple Israel's history.  COVID still affects almost everything we do and must be woven into the planning for every event.  We are incredibly proud of how the Temple family has been handling this nationwide emergency.  Our bonds are stronger than ever, but there is work to do as we climb out of this crisis.
So, as we come down the homestretch of our four years, we look, not back, but forward to many of you doing your part in assuring the future of Temple Israel by becoming more active in any of the myriad ways available to you.
Phones will start ringing soon.  Please answer the call to step into the leadership of Temple Israel. It's time.
Jerry and Alan
Jerry Gross
Alan Siegel
Co-Presidents
P.S. If you know of a fellow Temple Israel member who is not receiving our e-mail communications, please ask them to call the Temple office with their current e-mail address.
If you have any questions about our temple or would like to contact the Co-President directly, please feel free to email us at tmplisrael@aol.com and mark the email attention Co-Presidents: . You may also leave a message for us at 718.727.2231.