A Message from the Co-Presidents Jerry Gross & Alan Siegel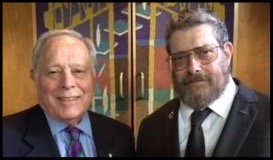 In January we contemplated December snow and the benefits of Zoom. Maybe our contemplation was a foreshadowing of what we dealt with last month.  Kudos to Zoom for keeping us in contact with each other during a weather-challenged month.
In our February column we compared ourselves to our ancestors wandering in the desert.    Little did we know that after 26 inches of snow last month, we could have used some desert climate to melt the white stuff.  Let's hope that the 15+ foot mounds of snow in parking lots will be melting sooner than later.
Before the blizzards, we got some welcome news:  Student Cantor Shirel Richman had decided to extend her stay at Temple Israel for another year.  And as you see at our Shabbat services, we get the bonus of her gifted husband Lincoln and his musical talents as well.
In 2020, as you may recall, the Purim service was the last major in-person gathering we had.  This year, Phin Larsen did an incredible job writing the Shpiel about showing Haman and Esther entangled with the Star War universe.  Purim is the most raucous service in our liturgy, and Zoom could not slow that spirit down.
We now look forward to celebrating Passover in a virtual world.  Again, we find that our minhag is forced to cope with the reality of the pandemic.  The long-range planning for it has resulted in a magnificent solution.  Temple members will be able to purchase their complete Seder meals, including ritual items, which will come with a link to our Zoom Seder Experience led by Rabbi Howald and Student Cantor Shirel Richman.  In order to help make this an interactive Seder, each participating family will be loaned copies of our Haggadah to be used during the Seder.
Looking ahead to next month, our Yom HaShoah observance will include testimony from Holocaust survivor Arthur Spielman who, as child, escaped from the Warsaw Ghetto and was hidden in an orphanage before finally making his way to the United States.  Be sure to mark your calendars and save Wednesday night, April 7, to hear him and join with us as we remember the Jews of Nachod, whose Torah resides in our Ark.
We are hopeful that as the Covid-19 vaccines become more available, we will all be able to maintain our good health as we move into the Spring season.  Please know that our Spiritual Home, Temple Israel, is well and being prepared for us to return to in-person activities.  We are preparing to Livestream our Services which will allow us to continue meeting the needs of our Congregants who are not yet able to return to the Temple while allowing us to accommodate those who are anxious to return to services within our Sanctuary.
We are grateful to all of you who have actively participated in the many activities that have been and will continue to be scheduled as we move forward together strong religious institution.
Jerry Gross and Alan Siegel
Co-Presidents
As we endure month 11 of the restrictions placed on our lives by the pandemic, we can look to Torah for parallels to our experiences.
As February opens, our hero Moses trudges to the slopes of Mt. Sinai to obtain that holy goal – guiding words from G-d.
Today, we spend endless hours on phones and devices, searching for vaccine appointments for ourselves or our relatives.
Down at the foot of Sinai, the children of Israel start to get antsy.  They don't want to obey the rules and long for the good old days, when food and shelter were provided to them.
Today, some of our fellow citizens don't like the restrictions placed on them, and try to break the rules, leading to a high level of danger to the rest of us.
Like the mixed multitude that departed Egypt, we live in a diverse society.
But unlike the Israelites who were destined to wander for 40 years, there are clear signs that the end of the more severe safety rules is in sight, though still far ahead on the horizon.
And Temple Israel will be ready.  The shape of the new normal is still unknown, but there are phases we know will be required to accommodate both those of us who can start to step inside our beloved sanctuary as well as those who must continue to stay in touch electronically.
In the meantime, keep availing yourselves of the wealth of programs our Temple is offering.   Last month's program with Lincoln Richman was amazing, and there is more to come.
This month, yoga continues to be the binding thread on a weekly basis.  And you can learn to meditate! Tune in on February 27th for a Comedy Night with the FUNdraising committee.  Tour Paris with Adult Learning, and be educated about the history of art.
Be sure to join us on February 7th at the Congregational Meeting to help select the nominating committee that will select next year's Temple Leadership. (The link to the Zoom Meeting can be found at the start of this Bulletin.)
And don't miss Purim on February 25th, with a Purim Shpiel, we are proud to say, that was written by Phin Larson, a graduate of our Religious School.
And yes, we are getting ready to celebrate Passover as a community. Please be sure watch for further announcements from Sisterhood.
Another busy month at Temple Israel is ahead of us.  We look forward to your participation.
Jerry Gross and Alan Siegel
Co-Presidents
P.S. If you know of a fellow Temple Israel member who is not receiving our e-mail communications, please ask them to call the Temple office with their current e-mail address.
If you have any questions about our temple or would like to contact the Co-President directly, please feel free to email us at tmplisrael@aol.com and mark the email attention Co-Presidents: . You may also leave a message for us at 718.727.2231.