A Message from the Co-Presidents Jerry Gross & Alan Siegel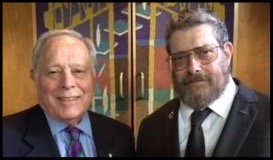 In a world already topsy turvy and struggling to find the right balance, the CDC's mid-May poorly communicated change of course on masks was a major curve ball to those charged with keeping public spaces safe.
To those listening to news headlines, it sounded like it was time to ditch the masks and get back to being up close and personal to everyone.  However, to those of us guarding our congregation's health, the fine print and cautions practically took us back to 'step 1' of a year ago: …Only if you are vaccinated.  ….Social Distancing….well maybe.  …100% capacity….only on even numbered odd Tuesdays.   And so on.   And don't even ask us about the restrictions imposed by HUC that are still in place to protect our Student Cantor.  We are hopeful that these will soon be revised to better serve everyone's needs.
We are also well aware of the daunting fact that many places overseas that opened up too soon, found themselves shutting down again as they experienced surges.
Adding into the mix is that since we want families to be able to bring their children to services, we have to be most conservative on masks and distancing until vaccines are fully available for everyone.
Above all, we don't want 'congregational whiplash' by having to backtrack on our path to full re-opening;  therefore, our path will be slow and deliberate.  And as we write this in mid-May, with changes coming on a daily basis, we cannot see that far into the future.  But we can do some planning.
June will see an in-person, live-streamed Shabbat morning service as Genevieve Lopez is called to the Torah as Bat Mitzvah. Because of current restrictions, please enjoy this service via livestream. Brotherhood and Sisterhood are planning one in-person event each which we hope you will attend.
As June progresses, we will evaluate the requirements of all the current guidelines, and work toward the goal of everyone being able to be at Temple for the High Holy Days.  We will be working with Rabbi, our Student Cantor, the Ritual Committee and the Board of Trustees to plot our safe path.
In the meantime, plan to attend the Zoom installation Shabbats for the Board, Brotherhood and Sisterhood.  And don't forget to support the Virtual Gala Journal.  We have expended a great deal of efforts and money to stay in touch during the pandemic and prepare for reopening, so this is a critical effort that needs your participation.
Yours in service to our Temple Community,
Jerry and Alan
P.S. If you know of a fellow Temple Israel member who is not receiving our e-mail communications, please ask them to call the Temple office with their current e-mail address.
If you have any questions about our temple or would like to contact the Co-President directly, please feel free to email us at tmplisrael@aol.com and mark the email attention Co-Presidents: . You may also leave a message for us at 718.727.2231.