A Message from the Co-Presidents Jerry Gross & Alan Siegel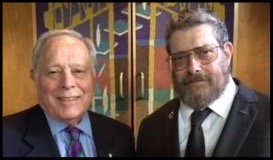 We would like to welcome all of our fellow Congregants to the Happy Holiday Season of Chanukah as we celebrate with our Religious School Students. Brotherhood will be sponsoring their annual celebration on Sunday, December 2 nd following our students' holiday program. Later in the day, all congregants are welcome to observe Sisterhood's Chocolate Gelt Mosaic creation just before our students and their parents help to deconstruct the Mosaic and enjoy the chocolate coins that they will collect and we conclude our Chanukah celebration with our annual Chanukah/New Member Shabbat Dinner and Consecration of our New Members on December 7th.
Our attention continues to be directed to the upgrading of our Temple security program in light of the recent incidents in Pittsburgh and other areas. We will work together with our concerned Congregants on a Safety and Security Committee to address these matters. We have recently had a facility review by personnel from the NYPD's 120 th Precinct and have implemented some of their recommendations. We have improved out video surveillance system and will be upgrading our entry procedures to further improve our Temple's security. Please be assured that you will be advised of our ongoing efforts in this regard.
As always, we look forward to greeting you at our Erev Shabbat Services and encourage your attendance and participation at Torah Study and Saturday morning Shabbat Services. You are, of course, welcome at our many Temple-wide activities throughout the month and we encourage you to become active participants in Brotherhood and Sisterhood.
Please accept our best wishes for a happy and healthy holiday season
Sincerely,
Jerry Gross and Alan Siegel
Co-Presidents
If you have any questions about our temple or would like to contact the Co-President directly, please feel free to email us at tmplisrael@aol.com and mark the email attention Co-Presidents: . You may also leave a message for us at 718.727.2231.