A Message from the Co-Presidents Jerry Gross & Alan Siegel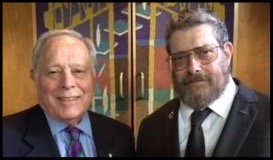 The following is the text of the Co-Presidents' Video Message which was sent to our congregants last week.
Although it may be a bit early to say "L'Shanah Tovah", we want to wish you a peaceful and healthful time ahead.
Rabbi has shared with you our spiritual path through this holiest time of the year.  It falls to us, both Jerry and me to map out how that path will be enabled and how you can assist.  So now, we ask for your full attention because unlike any other year, the ability of Temple Israel to remain healthy and present for next year and beyond depends on all of us more than ever before.
Traditionally, on Rosh Hashanah morning, Synagogue Presidents across the land take to the pulpit to discuss, beseech, cajole, reach out and otherwise try to convince their memberships that it is time to make a generous High Holy Day Pledge.  However, this year is anything but traditional. Previous Temple Presidents have shared stories about midnight meetings with plumbers or talked about wonderfully completed projects (with the help of generous Congregants) from Ark Door repairs to construction of handicapped accessible bathrooms or chair lifts.  This year's challenge was to provide you with meaningful High Holiday Services to which you have become accustomed.  In order to accomplish this, we have hired a Professional Video Production Company to provide you with that experience for Rosh Hashanah and Yom Kippur Services. But this year our needs are more critical — not just our financial health but literally it is the future of Temple Israel that has been seriously threatened by the effects of the current pandemic.
It is not inappropriate to compare our position at this point to Abraham setting out to found Judaism, or Moses leading a group of quarreling ex-Egyptians for 40 years in the desert or even Ben-Gurion and his band of freedom fighters when Israel was created 72 years ago.  Each of them entered uncharted territories and had to map out their way with very few precedents to guide them.  For Temple Israel, our challenge of maintaining our bonds of community in the face of changing rules and outright bans on gathering as a congregation is as critical and complex as theirs.  Rosh Hashanah morning last year had over 200 people together under our roof – one cannot re-create that sense of camaraderie using Zoom or streaming.
We are all grateful to Rabbi Howald for his extraordinary leadership with his on-line Shabbat services and adult learning classes.  When we held in-person, socially distanced Shabbat services earlier this month, the response was strong.  We are social beings – even the grumpiest among us wants to share that grumpiness with others.
So, what does that have to do with the future of Temple Israel??  EVERYTHING!!  Our Temple budget is made of many moving parts.  Our income is derived from your annual commitments, from your donations, from your attendance at fund raising events, from your participation in Brotherhood and Sisterhood, as well as the usage fees from the Head Start school and the Church group that meets here regularly.  All of these sources of income have been impacted by the pandemic and some have even dried up completely.  Yet, many of our expenses remain unchanged. Nonetheless, following some intense conversations, we have decided to expend extra funds to ensure that our broadcast High Holiday Services are as spiritually fulfilling as possible for each of our congregants and guests.
However, to be candid, we need your assistance to bridge that financial gap so that Temple Israel remains viable for future Rosh Hashanah Services.  Let us be very clear – Temple Israel has never allowed financial need deny membership for anyone – whether they are current members or new members seeking to join our Congregation.  That tradition will continue as long as we remain:  If you are under financial stress, please say something rather than leaving in silence.  But for those of you who are able, we are going to articulate why we are asking for more from you this year than usual.
We know that for many of us, the sense of Community bonding with our fellow congregants is under pressure and you may begin to feel socially, as well as physically distanced from Temple Israel.  So, first we ask you to look at what Temple has meant to you over your time as a member; and, if you have not already done so, please submit your annual commitment NOW!  And, if you are so moved, please consider accepting the honor of upgrading to a Kavod level membership that will enable us to assist others in need  —  now is the time to do it.
Please take a look at your personal situation. Is yours one of those cars that is now getting three weeks to a tank of gas rather than having to visit the gas station weekly?  Have you been deprived of your daily Starbucks?  Did your previously planned vacation turn into a STAY-cation?  Did your E-Z pass or Metro-card have a zero-due balance?  Think about the money you will not be spending on new clothes for the holidays or even for the Gala.  Yes, we're asking that you assign some of those savings to Temple Israel in the form of a generous High Holiday Pledge, one that will demonstrate your caring for the home of Reform Judaism on Staten Island, OUR spiritual home, OUR Temple Israel.
While the pandemic may have made the near future difficult to see, the communal bond of Temple Israel remains clearly visible.  Hopefully, we will soon be able to gather in-person more frequently.  But we need your help now to secure the financial future of our Temple so that next year we can ALL gather in our Sanctuary as the Shofar sounds its welcoming tones.
P.S. If you know of a fellow Temple Israel member who is not receiving our e-mail communications, please ask them to call the Temple office with their current e-mail address.
If you have any questions about our temple or would like to contact the Co-President directly, please feel free to email us at tmplisrael@aol.com and mark the email attention Co-Presidents: . You may also leave a message for us at 718.727.2231.