A Message from the Co-Presidents Jerry Gross & Alan Siegel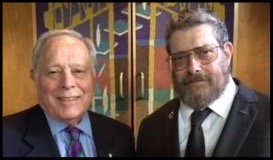 We are grateful to our Congregants for their support throughout the year and for their participation in many of the wonderful activities that have taken place sponsored by Sisterhood, Brotherhood, our re-energized Fundraising Committee, Adult Learning and our Membership Committee. Temple Israel is a vibrant and thriving home for Reform Judaism in the Staten Island Community.
We have been up-lifted by the recent Bar Mitzvah of Ethan Kaminsky and offer our congratulations to the Kaminsky Family. We also shared in the 'nachas' of the families of our Confirmands, Phineas Larson, Landon Levine and Noah Miller, as they demonstrated a wonderful level of thoughtfulness as they presented their D'Var Torahs. Each of them spoke of the important instruction and support they received from both Rabbi Howald and Student-Cantor Benrey. The attendees in our Sanctuary were impressed by their maturity and spirituality. We celebrated the dedication and achievements of Bryn Biren at or annual Gala Brunch.
As we look forward to our Summer season, we can assure you that the activities continue! We remind you that Erev Shabbat Services will be taking place ' In-the-Round ' in our Social Hall. Please be sure to attend and enjoy the casual setting throughout the Summer. We are eagerly anticipating Brotherhood's Annual Barbecue on July 14th and hope that many of you will join us for good food and camaraderie.
Please stay current with our many activities by reading the electronic communications sent from the Temple Office. And, as always, please feel free to contact us should you need assistance with any family matters.
We wish you a healthy and relaxing summer and look forward to welcoming you back to next year's many new and exciting activities.
Jerrold Gross and Alan Siegel
Co-Presidents
If you have any questions about our temple or would like to contact the Co-President directly, please feel free to email us at tmplisrael@aol.com and mark the email attention Co-Presidents: . You may also leave a message for us at 718.727.2231.