A Message from the Co-Presidents Jerry Gross & Alan Siegel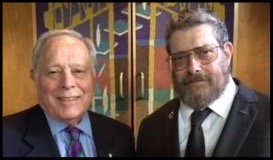 As you read this article, we are actively preparing for our on-site High Holiday Services which will be taking place 'early' this year.  We are anxious to welcome you to our Sanctuary on Rosh HaShanah and Yom Kippur keeping in mind that we are still exercising Covid-related safety protocols to help to ensure the health and welfare of our Congregants.  Some of these protocols will impact on what had become 'usual' for us but can no longer be safely implemented.  Please refer to the letter that you previously received which is included in this article that outlines the precautions that will be in place this year.  We are confident that we can count on your continued cooperation as we move ahead, toward reaching the 'New Normal' at Temple Israel.  Thank you in advance.
Jerry and Alan
Jerry Gross
Alan Siegel
Co-Presidents
July 21, 2021
Dear Fellow Congregants:
Since March of 2020, the focus of your Board of Trustees has been to maximize the safety of our congregants while enabling our community to be together through various means.  At this time, we believe that it will be possible to worship together in our beloved sanctuary on Rosh HaShanah and Yom Kippur, but there will be changes to keep everyone as safe as possible while being together.
As difficult as it is to be sure of the shifting landscape of COVID precautions, the Temple Board has determined that we will follow these guidelines for our High Holy Day services in September.  Of course, if government recommendations require more stringent measures, we will implement them and immediately advise you.  Please be sure that you receive both News & Notes and E-Shalom in your family's e-mail to be kept up to date.  Contact the Temple office if you need to update them.
We will be continuing our policy of wearing masks at all times on Temple grounds during worship.
Ticket sales to non-members are limited to those who are sponsored by a Temple member or who have regularly purchased tickets in the past.  There will be no 'Door Sales'. We will, however, continue our policy of providing tickets to visiting students and temporary medical personnel.
To maximize safety, the congregational seating area will be broken up into two areas, with non-vaccinated attendees (and those who wish to join them) seated in the Social Hall.  Access to that area will be gained through the patio doors. Children (and grandchildren) not eligible to be vaccinated due to age or medical condition can sit with their family in the vaccinated area if the family is vaccinated.  (Vaccinated attendees may sit with family/friends in the unvaccinated area if they wish to be together.)
To speed up the seating process, we are asking that you submit proof of vaccination ahead of time to the Temple office to be kept in a confidential file.  You can mail, email or drop off a copy of your proof of vaccination.
Some other points for your information:
·      As we have been doing with Erev Shabbat services this summer, a unique streaming link will be provided upon request to those member or ticket holders who would prefer to participate in a virtual setting.
·      Traditionally, our children's service and Yizkor / Neilah have been open to the public.  This year, attendance at those services will be limited to Temple members and ticket holders.  The streaming links will be publicized and available to anyone.
·      At Tashlich, following the Rosh HaShanah morning service, please provide your own bread for casting into the stream.  We ask that you refrain from consuming it, and please remember to keep your mask on during that gathering, even though it is outdoors.
·      There will be no community "Break the Fast" at the end of the Neilah service.
As always, we depend on your thoughtful decisions to respect the safety of our community by refraining from attending (regardless of vaccination status) if you are experiencing any symptoms common to COVID or have been exposed to infection.
On behalf of the Board,
Jerry Gross & Alan Siegel, Co-Presidents
P.S. If you know of a fellow Temple Israel member who is not receiving our e-mail communications, please ask them to call the Temple office with their current e-mail address.
If you have any questions about our temple or would like to contact the Co-President directly, please feel free to email us at tmplisrael@aol.com and mark the email attention Co-Presidents: . You may also leave a message for us at 718.727.2231.