A Message from the Co-Presidents Jerry Gross & Alan Siegel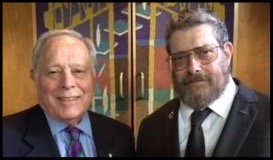 With December's snow and heavy rain, the silver lining of Zoom activities and services versus travel to the Temple has become apparent.
And we have other silver linings.  Shabbat Hanukkah had nearly 70 screens tuned in.  And with couples, attendance approached 100 people!  We want to dwell on Hanukkah for a moment.  Once again, tremendous thanks to Bryn and Libby for the Sisterhood Shabbat Hanukkah dinner.  We can unite as a congregation through cyberspace.  And our Student Cantor did a fantastic job of creating the choir videos for the service.  Kudos to her and all our choir members.  Thank you to Rabbi as well, for the warm way that he has conducted our Zoom services — people really feel part of them.
Sisterhood's menorah lighting on all the other days of Hanukkah drew us together as a congregation again.  It  was wonderful seeing Cantors Liz Flynn, Lindsay Kantor and Aviva Marer along with Student Cantors Jennifer Benrey and Shirel Richman and our own Jim Rohan.  It is nice to know that all appreciate the nurturing and growth opportunities Temple Israel has given them.  Thank you to Jodi Siegel who contacted all our guest song leaders and arranged for this wonderful way for our congregants to gather each night of the holiday.
As you will see elsewhere, we will continue to improve on the experience of Shabbat Hanukkah, with the virtual Oneg on February 5th with real cookies.  Mark your calendars so you don't miss Shabbat Shira – the Sabbath of Song – on January 29th.
We continue to monitor all the health advisories and are waiting to see what can be done to bring our community together in our physical building when the time is right.  The vaccine does give us hope, but all the timing points say we have months to go.  And as the shutdowns of our tenant Head Start remind us, extreme caution must be our watchword.
We continue to be grateful to Brotherhood, Sisterhood, Adult Learning, Fundraising and the Avis Foundation for the wonderful array of programs and activities during this seemingly endless hiatus in our on-site social life.
And as we paused to reflect on the loss of David Meltzer, please remember and take inspiration from all the energy and love Dave put into Temple as Brotherhood President and Temple Vice-President.  The man was everywhere a job needed to be done.
And as always, please consider participating (or expanding your participation) in our certificate program.  Starbucks & Dunkin certificates make great "tips";  Carvel and Target, as well as Kohl's, are now available.  Larry Hanibal has been making the rounds almost every week delivering certificates – you don't even have to leave home. We are all extremely grateful to Larry for all that he has done to support our Temple.
Jerry and Alan
P.S. If you know of a fellow Temple Israel member who is not receiving our e-mail communications, please ask them to call the Temple office with their current e-mail address.
If you have any questions about our temple or would like to contact the Co-President directly, please feel free to email us at tmplisrael@aol.com and mark the email attention Co-Presidents: . You may also leave a message for us at 718.727.2231.