A Message from the Co-Presidents Jerry Gross & Alan Siegel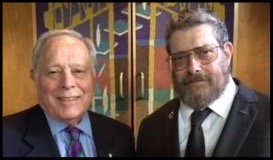 We would like to take this opportunity to welcome you to our High Holiday Season as we begin the New Year 5780. How time flies! Another year of activities here at Temple Israel has passed and we are confident that you enjoyed each of the events and services in which you participated.
We look forward to greeting you at all of the coming HHD services being planned for this year. In advance, we would like to thank Rabbi Howald for leading us in prayer in our Sanctuary and Student Cantor Benrey for her musical contributions including her work with our Senior Choir along with our Accompanist Elona Migarov.
There is much work which goes into preparing for the High Holidays liturgically and otherwise in order to maintain all our long-standing Temple Israel rituals and traditions.
When the Ark is opened, we hope you will appreciate the work that was done by Sisterhood volunteers to make sure that our Torah adornments shine brightly for the Holidays. Also, please join us in thanking the hard-working Ritual Committee in their efforts to include a large number of our Congregants in each of our service, in addition to their diligent preparation of our Memory Book. This committee sees to all the details of each service—everything from the flowers on the bimah to the prayer books at each service and the organization of the many who participate. We are grateful for all their hard work.
Thanks also go to Sisterhood for underwriting the cost of cleaning our Social Hall and Sanctuary carpeting to enhance the ambiance of our Temple.
We encourage you to invite your unaffiliated friends who have young children to attend our Yom Kippur Children's Service, our Sukkot service where they can share in the mitzvah of shaking the Lulav and Etrog and our Simchat Torah celebration so that they can join us as we dance with the Torahs and enjoy a "Taste of Temple Israel" along with ice cream sundaes. Of course, everyone is welcome to join us for every Shabbat!
Again, please accept our best wishes for a Sweet and Healthy New Year.
From our families to yours, L'Shana Tovah.
Jerrold Gross and Alan Siegel
Co-Presidents
* For those who wish to count: Selichot; cleaning the stream for Tashlicht; Erev Rosh Hashanah; Rosh HaShanah; Tashlicht; Rosh HaShanah learning service; Kol Nidre; Yom Kippur (Morning Service; Children's service; Afternoon Service; Discussion Group; Yizkor; Neilah; Break the fast; Putting up the Sukkah; decorating the Sukkah; Sukkot dinner; Erev Sukkot service; Sukkot morning service; Erev Simchat Torah service & consecration of students and new members AND Brotherhood's Ice Cream Oneg; and finally, Simchat Torah morning service & Yizkor; followed by a share-a-dish lunch
If you have any questions about our temple or would like to contact the Co-President directly, please feel free to email us at tmplisrael@aol.com and mark the email attention Co-Presidents: . You may also leave a message for us at 718.727.2231.