"Then Moses and the Israelites sang this song to God." (Exodus 15:1). "Then Miriam the prophetness, Aaron's sister took a timbrel in her hand, and all the women went out after her in dance with timbrels. And Miriam chanted for them, "Sing to God, for God has triumph gloriously." (15:20-1)
ON MAY 12, 2017 OUR CHOIR CELEBRATED 25 YEARS OF BEAUTIFUL MUSIC!
Music has always been an integral part of our liturgy. There were congregant choirs and then for many years, a hired choir worked with Jan Meyel. When Cantor Suzanne Bernstein came to Temple Israel, she set about building up both adult and children's choirs. Over 150 adults and children hasve filled our sanctuary with music over the last quarter century
Our Adult Choir performs at our High Holy Day Services and selected services throughout the year including, Shabbat Shira.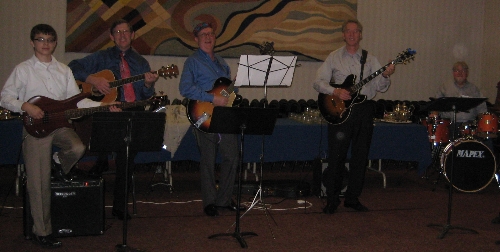 Do you play an instrument? Do you sing? Either talent qualifies you to join our famous Rock of Israel Band. We play to a packed congregation at Simchat Torah and other festive events. No prior band experience is necessary, just a sincere desire to play beautiful music.
We encourage all to share their love of song and join our choirs and/or Rock of Israel Band.