MAT and CHAIR YOGA FOR EVERYBODY – ALL LEVELS  
Relieve your stress, clear your mind, and strengthen your body.  A perfect way to recharge.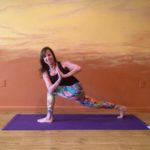 Your instructor….Denise Nizzare  an Experienced Yoga Instructor with a demonstrated history of working in the health wellness and fitness industry. Skilled in Life Coaching, Meditation, Yoga Instruction, Laughter Yoga, and Hypnosis. Strong education professional graduated from NLP Hypnosis Center of New York.
 Join Denise and friends on WEDNESDAY nights at 8:00-9:00pm and
Start your week off right with our SUNDAY night classes 6:00 – 7:00pm. 
OCTOBER SCHEDULE: THURSDAY OCT 17 & 24 YOGA WILL MEET AT 6:30 SO OUR YOGA STUDENTS CAN TAKE "INTRO TO YIDDISH" WHICH FOLLOWS AT 7:30PM.  SUN, OCT 27 AT 6:00pm and THUR OCT 31 at normal time of 7:15pm.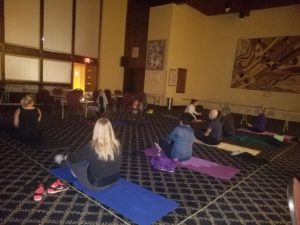 YOGA CLASSES AT TEMPLE ISRAEL EVERY THURSDAY AT 7:15pm and Sunday 6:00-7:00pm in our beautiful  SOCIAL HALL.    Our social hall is tranformed into a quiet sanctuary by lowering the lights and playing soft, relaxing music.  The classes include stretching, breathing, Yoga mudras (involving the body and hands), aromatherapy,  and shavasana (relaxation and meditation).  Students are able to work at their own levels.  It is not too late to join us. Yoga is an on going practice, not a competition.  Bring your friends and neighbors. 
Registration takes place each month, there is no registration fee.  The cost  is $60 for 4 sessions or $15 per session.  You can also pay for each class as you attend.  Sunday night yoga classes are FREE to Temple Israel members thanks to the generosity of the Avis Foundation. Non members pay only $15 per class.
Bring your own mat or beach towel.  The physical and mental benefits of yoga are great. Join us to gain physical strength, flexibility, balance,  and greater peace of mind.  Namaste…